Wild Swan Books
Aberllefenni, A Slate Landscape
Peter & Ginny Barnfield, Wes Magee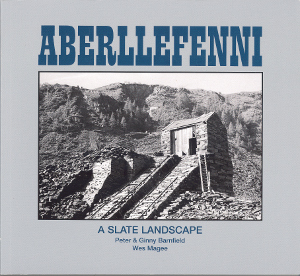 Softback - 64 pages - £12.95
Description
Slate has been quarried in this part of Wales for hundreds of years. Aberllefenni Quarry being the oldest and at times the largest slate operation in the Corris area. It was the only quarry in Wales that could claim almost five centuries of continuous operation.
Slate was initially transported by packhorse and farm sledge down to the River Dovey about five miles west of Machynlleth, from where ocean-going vessels took it to many worldwide destinations. In 1859 the opening of gravity and horse-worked 2ft 3in gauge Corris, Machynlleth and River Dovey Tramway paved the way for vast expansion. The tramway became the Corris Railway when it was rebuilt for steam locomotive operation in 1877-78, with passenger services started to Corris in 1883 and on to Aberllefenni in 1887.
The railway tracks continued beyond the passenger terminus at Aberllefenni, which was the limit for steam locomotive working and ran as far as the quarry. The tramway had very basic trackwork, with single-bladed points and was worked by horse power. This enabled slate slabs to be brought down from the quarries to the works in Aberllefenni village, from where the finished products were were transported to the coast by the Corris Railway.
The Aberllefenni Quarry tramway continued in operation until 1982 and was still very much alive at the time the photographs in this book were taken over a two day period in 1977, although by then a farm tractor had replaced the horse as motive power. The visually stunning images contained in this book illustrate the buildings, structures and equipment that Peter came across in his exploration of the area. The subjects of the over 50 photographs in the book range from abandoned dwellings to the still operational tramway and inclined planes. The book includes seven original poems by Wes Magee who was working with Peter on several projects at the time.
Example Two Page Spread [1]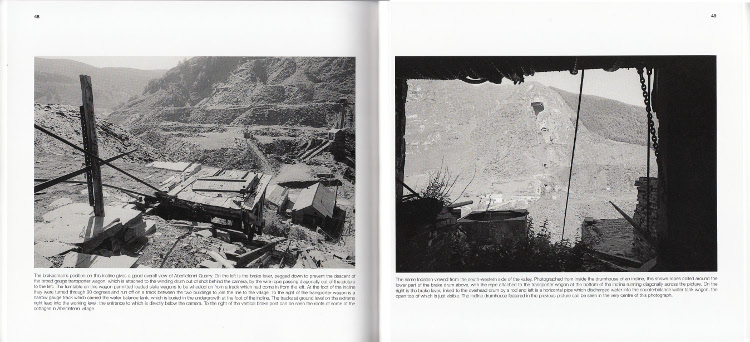 Example Two Page Spread [2]