Wild Swan Books
The Alcester Branch
Stanley C. Jenkins & Roger Carpenter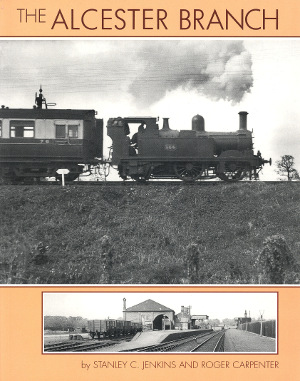 Softback - 100 pages - £18.95
Contents
Origins of the Alcester Branch
Construction and Opening
The Line in Operation (1883-1939)
The War Years
The Line Described

Aston Cantlow Halt
Great Alne
Alcester Station

The Postwar Years
Signalling
Description
The six-mile single-track branch from Bearley to Alcester originated in the 1860s but had the misfortune to fall between the areas of two rival lines - the Midland and the GWR. This effectively prevented the route from being brought into existence until the following decade when the GWR and the Midland came to an arrangement whereby the branch would be built with Great Western help and worked as part of the GWR, while terminating in Alcester in a sort of 'joint' station shared by both companies.
The branch functioned until 1917, when it was closed as an emergency measure during World War One. It was re-opened, with an additional stopping place at Aston Cantlow, in 1922-23, but its subsequent traffic receipts were disappointing, and the line was closed for a second time during World War Two. However it was then re-opened again in 1941 to cater for workmen's traffic to and from Great Alne, where a factory had been hastily set up following wartime damage to Maudslay's engineering works in Coventry. Following a further withdrawal of passenger services in 1944, the branch remained in use for wagon storage and occasional freight traffic until the 1950s, with final closure being effected in 1960.
The history of this little-known GWR line has never been the subject of a full monograph before, and it is therefore hoped that this present volume will fill a gap in the local history of a particularly attractive part of rural Warwickshire.
Example Two Page Spread [1]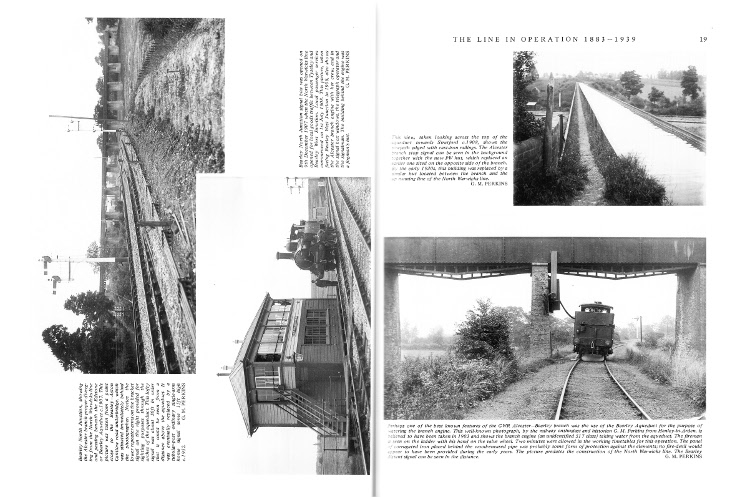 Example Two Page Spread [2]