Wild Swan Books
The Class 8F
2-8-0s


LMS Loco Profile

No.8

David Hunt, John Jennison, Fred James, & Bob Essery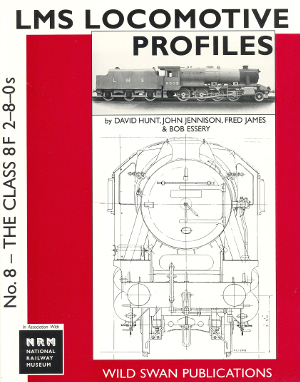 Softback - 136 pages - £16.95
Contents
Origins

LMS Orders
War Department Orders
Railway Executive and LNER Orders
The Stanier

2-8-0s

of British Railways

Construction and Modifications

Boilers & Smokeboxes
Cylinders & Valves
Motion & Coupling Rods
Frames, Axleboxes & Springs
Wheels, Axles & Pony Truck
Brakes & Sanding
Platform & Cab
Cab Fittings, Controls & AWS
Oil Burning & Snow Ploughs
Tenders

The Engines in Service

LMS-Operated 8Fs
8Fs on the GWR
LNER 8Fs
BR 8Fs

Livery

Pre-Nationalisation
British Railways
Description
The LMS heavy freight 2-8-0s introduced by W. A. Stanier in 1935 shared many characteristics and details with the earlier mixed traffic Class 5 design and became equally highly regarded by railwaymen and enthusiasts alike. Although neither as numerous in LMS and BR service nor as widely travelled on the LMS system as the 4-6-0s, they were destined to become not only the most numerous examples of the company's designs built but also went further afield than any other.
Only 331 of the 852 locomotives built were to LMS orders; of the remainder, 208 were built by various firms for the War Department to be used overseas and the rest to orders placed on different railway company works by the wartime Railway Executive Committee and the London & North Eastern Railway for service in Britain. Thus, as well as LMS works and outside contractors, 8Fs were produced by three works on the Southern Railway and two LNER establishments as well as at the Great Western's Swindon Works.
Many of the WD engines did go abroad and although some returned to Britain, others were either lost at sea or remained in the Middle East and Turkey, where the last survivors were still in use in the mid-1980s, whilst fifteen served in Italy. To complicate the issue further, 53 WD engines were loaned to the LMS in the early years of World War 2, some LMS locomotives were requisitioned by the War Department, and many of those built to Railway Executive orders were loaned to the LNER and GWR despite carrying LMS numbers. Eleven of the requisitioned locomotives and 31 WD engines returned to Britain after the war. A further potential confusion was caused by the fact that one of the LMS locomotives requisitioned during the war, as well as thirteen WD examples that were loaned to the LMS, were purchased by British Railways and entered that company's service with different numbers from those they had previously carried. Altogether, 751 of them carried LMS or BR (LMR) numbers at one time or another, although the maximum number to see BR service simultaneously was 666 achieved between 1957 and 1960.
The book is extensively illustrated with images of the locomotives in service and includes fifteen detailed drawings, four at large format on two fold out pages bound into the book. Appendices cover building, numbering, renumbering, AWS and withdrawal dates as well as shed allocations for selected dates between 1939 and 1965.
Example Two Page Spread [1]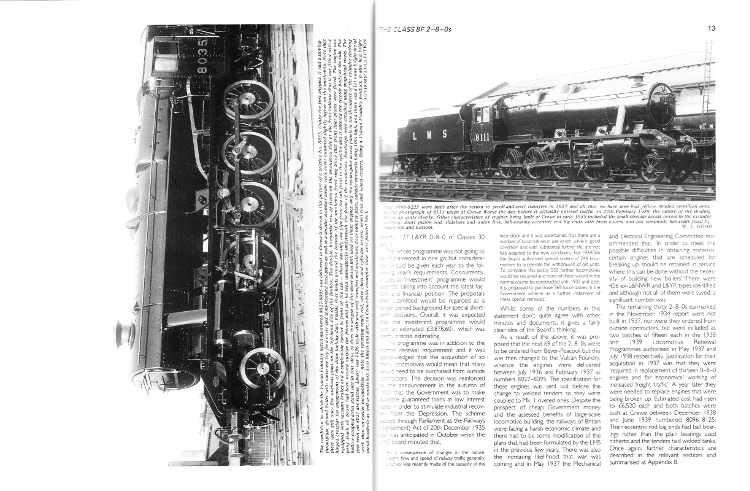 Example Two Page Spread [2]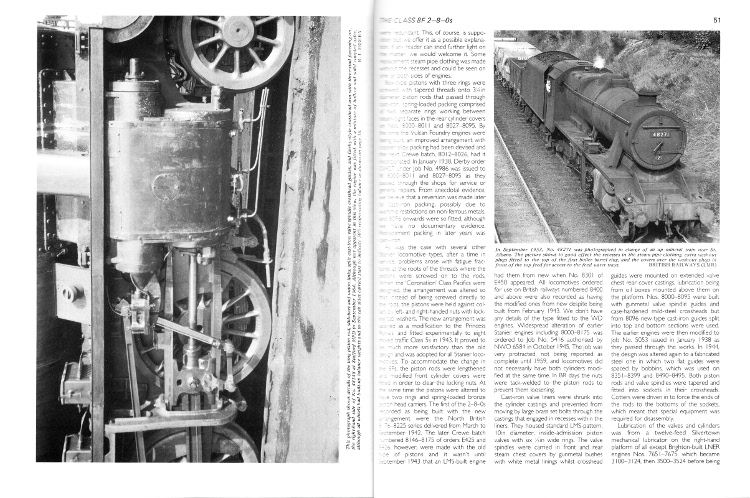 Example Two Page Spread [3]