Wild Swan Books
The Elham Valley Railway
Brian Hart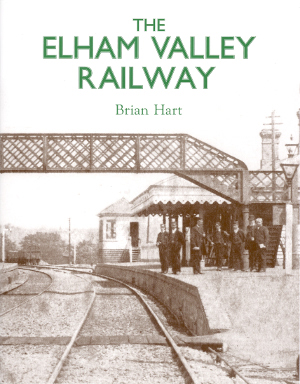 Hardback - 300 pages - £39.95
Contents
A Railway Born of Strife
The Alkham Valley Railway
The Barham Branch
Onward to Canterbury
Walker's Wonderful Railway
The Flourishing Years
Under the 'Sunny' Southern
The Back of Beyond
The Valley Goes to War
The Railway Vanishes
Appendix

Track Plans
Signalling Diagrams
Description
The Elham Valley Line originated from the acrimonious and destructive competition between two Victorian railway companies - the South Eastern, and the London, Chatham & Dover. What began as an innocent enterprise in the middle of the 19th century to promote a local railway project, suddenly erupted into one of the most vitriolic and passionate battles between the SER and LC&DR, where neither emerged triumphant.
From its modest origins and throughout the 'war' of the 1880s, the author uncovers a captivating tale of intrigue, strategy and reprisal which embroiled the companies' most senior figures; respectively its chairmen Sir Edward Watkin and James Staats Forbes. The struggle between these two 'railway giants' resulted in the construction of a main line through the loveliest area of rural East Kent, but the unresolved tragedy was its lack of purpose.
Like so many railway lines, its prosperous era lasted until the ruinous World War of 1914-18. Afterwards, the competition from road operators gradually eclipsed the limited role of the Elham Valley as a mere 'branch' line, confined to serving only villagers and agriculturalists. Largely reduced to single track in 1931 and taken over by the War Department in 1940 for defence purposes, the line became not only a victim of rationalization, but ultimately a sacrifice in the nation's battle for survival against Nazi Germany. Regrettably, its anticipated revival was thwarted through a combination of political ideology and the economic crises in the immediate aftermath of WWII.
The author has sustained a fondness for this delightful Kentish byway for as long as the railway itself existed. His previous book, now long out of print, was a tentative first step which he considers was little more than an illustrated tribute to his most favourite railway line. So it was hardly surprising that one day he would feel compelled to delve far deeper, whereby a quite remarkable story has now emerged. Apart from explaining its creation, he has gone to great lengths to describe the life of this railway in devoted detail, helped considerably by eye-witness recollections and long-forgotten accounts. Although principally a railway book, it also serves as a valuable social history which demonstrates how much the line was interlaced with people's lives and everyday habits. The Elham Valley Railway not only reflects the author's unfailing passion for this line, but also the exquisite landscape it traversed and the more leisurely and contented era of its existence.
Example Two Page Spread [1]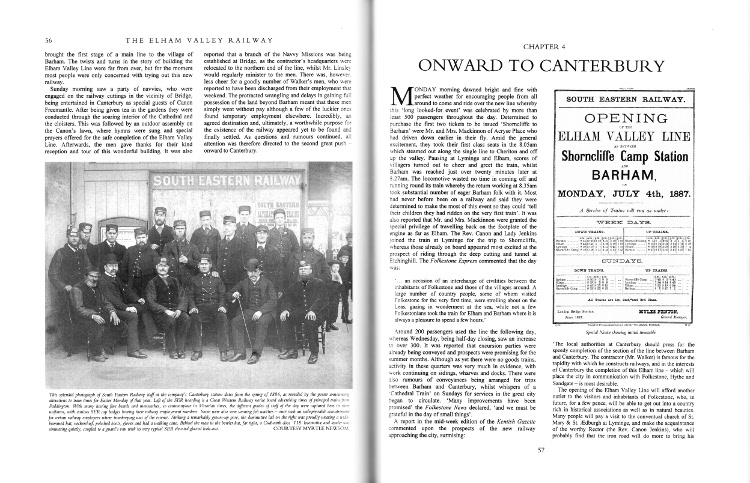 Example Two Page Spread [2]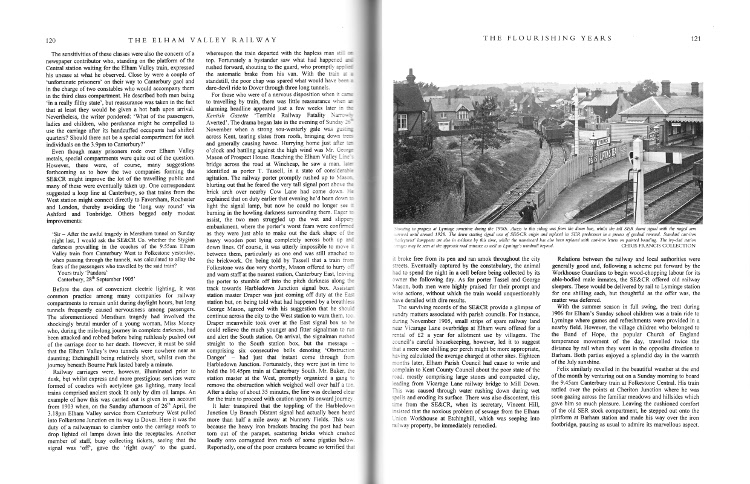 Example Two Page Spread [3]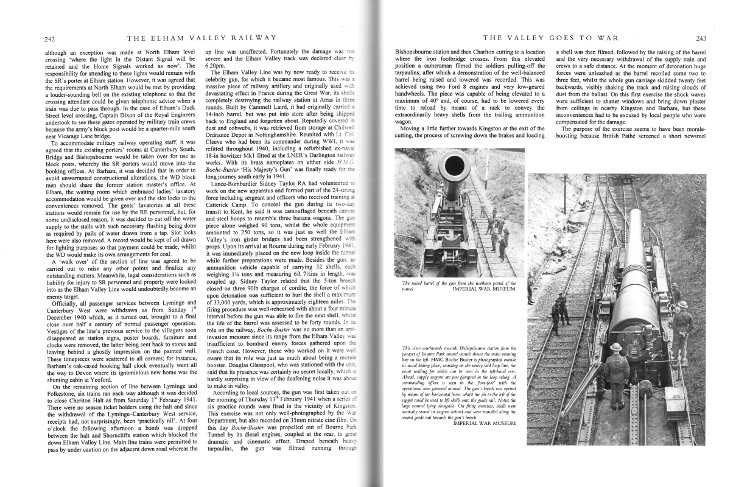 Example Two Page Spread [4]