Wild Swan Books
The Liskeard and Looe Branch
Gerry Beale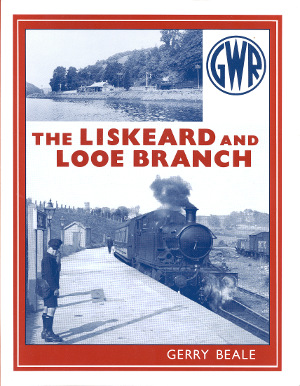 Hardback - 220 pages - £25.95
Contents
An Outline History to 1900
The Liskeard & Looe Extension Railway
The Great Western Branch Line
The Old Line
Along the Line

Liskeard - Main Line Station
Liskeard - Looe Branch Station
Coombe Junction
St. Keyne
Causeland
Sandplace
Terras Level Crossing
Looe
Moorswater

Postwar and Nationalisation
Locomotives and Rolling Stock
Description
The Liskeard and Looe branch has its origins in a canal built to bring fertilisers to the agricultural lands of this part of East Cornwall. By the 1850s a railway had been constructed to exploit the fabulously wealthy copper mines on Caradon Hill and to allow the ore to be removed by the canal. In due course, the canal was itself replaced by a railway which, built to the standard gauge, was entirely separate from the broad gauge Cornwall Railway.
The independent railway existed in ever more impecunious circumstances until the end of the 19th century when moves were made to connect with the rest of Britain's railway system. With new locomotives and coaches, and connected to the outside world, the railway entered the 20th century with great optimism. Within a few years, though, financial problems brought an increasing reliance on its larger neighbour, the Great Western Railway. In 1909 this affiance was formalised when the two companies entered into a working agreement, whilst in 1922 the GWR took over the local company in its entirety.
This book details the development of the Liskeard and Looe branch from the time of the working agreement, through the period of GWR ownership and into the era of the nationalised railway system when the line became part of British Railways (Western Region). The text is based on much original research, using many company documents held in record offices and in private hands, but also leans on the recollections of the railwaymen who worked on the line in its post war heyday. Due no doubt to its fascinating history, its unusual working practices and its location in a popular holiday area, the line was well recorded by many of the leading railway cameramen and the book is illustrated with a wealth of attractive photographs.
Example Two Page Spread [1]
Example Two Page Spread [2]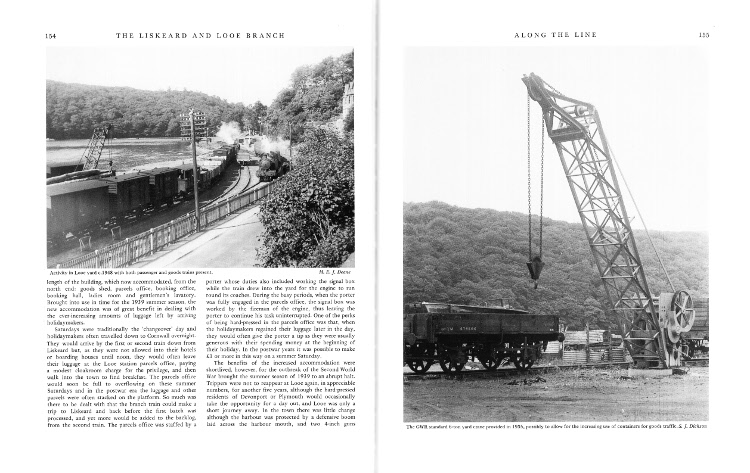 Example Two Page Spread [3]