Wild Swan Books
Locomotive Construction
From Scratch and Etched Kits - Part One
Geoff Holt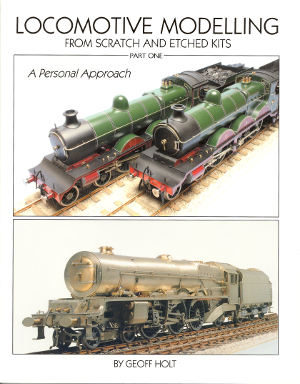 Softback - 108 pages - £24.95
Contents
The Modelling Bug
Tools & Equipment
Materials in Common Use
Working with Sheet Metals

Cropping & Cutting
Bending & Forming
Rolling Bars and Rolling
Rivet Punching
Soft Soldering

Drawing & Transfer of Scales
Locomotive Frames

Wheels
Springing & Compensation
Side Rods & Cylinders
Bogies & Pony Trucks
Sanding & Brake Fittings
Outside Frames

Valve Gears
Description
This is the first of two volumes written by the late Geoff Holt which, taken together, cover his approach to model locomotive building. The books form a practical guide and also give an interesting account of how the hobby has changed and developed since The Second World War.
Most of the techniques and methods described in the book are common to both scratch building and etched kits and the need to add extra detail or modify a kit to replicate an individual engine is likely to involve an element of scratch builing. Consequently, the content of the book reflects the complimentary nature of kit and scratch building. Over many years of model locomotive building the author also found there was no appreciable difference in his approach to modelling in 4mm, 7mm or 10mm scales and thus the books are equally applicable to modellers in any of these scales.
Illustrated throughout with colour photography and numerous sketches and line drawings, this book starts with a general introduction to tools, materials and techniques before embarking upon a 7mm "signature model", the Great Central's "Immingham" class 4-6-0, one built from scratch and the other from a kit. The last chapters of this volume deal with construction 'below the running plate'; Volume Two covers the rest of the locomotive build.
Example Two Page Spread [1]
Example Two Page Spread [2]