Wild Swan Books
Memories of Railway Journeys in Wales 1961-1964
Peter Barnfield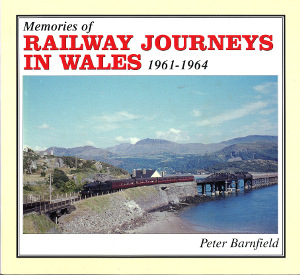 Softback - 112 pages - £14.95
Contents
Glimpses of the Past
The W&LLR, A Narrow Gauge Discovery
Ebbw Vale to Merthyr Tydfil
To Hereford via Taff, Usk & Wye
Moat Lane, Three Cocks & Talyllyn Junction
Across Central Wales
Adventures on the Seven Mile Bank
Farewell to the Brecon & Merthyr
Description
The first version of this book was self-published as a limited edition without photographs in 1996. Various extracts also appeared in 'Railway Bylines' magazine during 2003 and 2005. Much of the original text has been re-written and expanded for this volume. Rather than trying to cover many of the routes that were still in existance in the Principality in the early 1960's, for this book Peter chose those lines which were his personal favourites and the journeys which were the most memorable.
The book describes Peter's impressions of lengthy journeys over long straggling lines through sparsely populated, beautiful countryside. Peter extracted the accounts of these journeys from his journals which were written in longhand on the day after each trip. Nostalgic and funny by turns, the text is accompanied by a superb photographic record of the lines travelled, every picture bar one taken by Peter himself.
The ride from Welshpool to Llanfair on a chain-driven Permanent Way trolley and stumbling upon an army platoon on exercise, as they emerged through the mist alongside Seven Mile bank on the Brecon & Merthyr, are amongst the highlights of the book.
Example Two Page Spread [1]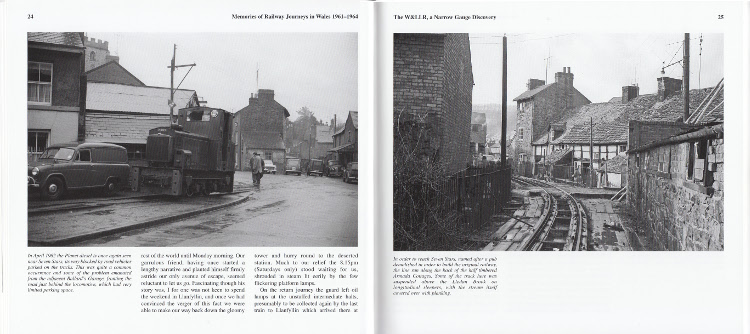 Example Two Page Spread [2]