Wild Swan Books
Memories of West Country Railway Journeys 1960-1962
Peter Barnfield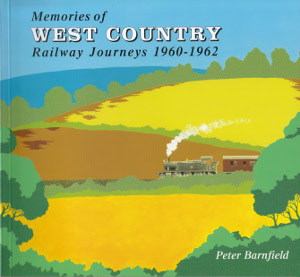 Softback - 120 pages - £14.95
Contents
The Clevedon Auto
Overnight to Penzance
Interlude at Martock
Evening at Chard
The S&D to Burnham-onSea
Summer Saturday Kingsbridge
The Uffculme Mixed
On the fringe of Dartmoor
Bank Holiday Liskeard & Looe
Beside the Fowey
Description
Peter Barnfield recounts a series of railway journeys on ex-GW and Western Region lines in the West Country undertaken in the early 1960's. Recalled from notes Peter made at the time, the book is profusely illustrated with the author's own photographs, mostly taken on the journeys described. Although not ex-GW, the book includes a particularly delightful journey from Evercreech to Burnham on Sea which takes us all the way from page 48 to page 73.
The text is no rose-tinted nostalgia for a bygone age, but a realistic portrait of the declining years of these Western Region outposts. This is typified in the chapter 'Evening at Chard' by the ancient Western National railway replacement bus put on, not for Peter the sole passenger, but to accommodate the huge volume of mail which was still a feature of the early 1960's railway scene. The discomforts and eccentricities Peter recounts from his journeys undoubtedly sowed the seeds for his creation of the imaginary West Country railways of Whimshire.
Unlike Peter's earlier "Withered Arm" book, with which this volume is physically uniform, this book includes a number of views of diesels and multiple units, which had started to operate over Western lines by the time of these journeys.
Example Two Page Spread [1]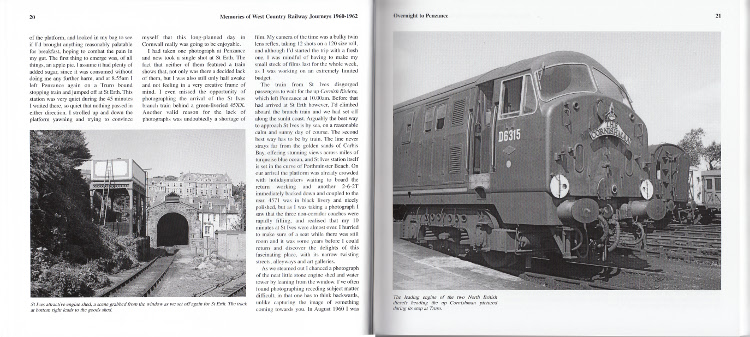 Example Two Page Spread [2]