Wild Swan Books
The Midland and South Western Junction Railway
Volume One
David Bartholomew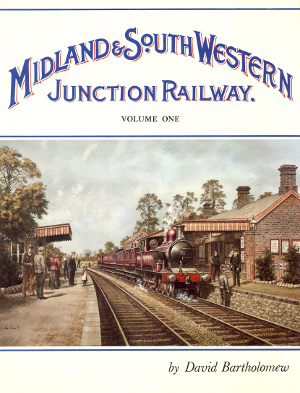 Hardback - 238 pages - £27.95
Contents
Outline History
Cheltenham, Andoversford
Withington, Chedworth
Cirencester, Ashton Keynes
Cricklade, Blunsdon
Swindon Town, Chiseldon
Ogbourne, Marlborough
Savernake, Grafton
Ludgershall, Weyhill
Andover Jct, Tidworth
Description
The Midland & South Western Junction Railway was an independent line forming part of a through route from the Midlands to Southampton. As early as 1836 the merchants of Manchester proposed a direct rail link with the port but some fifty years passed before a through route came into being.
The M & SWJR conveyed goods and passengers between Cheltenham and Southampton, a distance of some 95 miles. It was the only railway company to obtain running powers over the London & South Western Railway into Southampton and provided probably the quickest route from the West Midlands and North West England to the premier Channel port. The line reached its peak just prior to the First World War with military installations on Salisbury Plain generating a large volume of traffic which included the conveyance of numerous supplies for troops overseas. However, the aftermath of the Great War brought about severe cuts in services and redund ancies among the railwaymen.
After the Great Western Railway took over in 1923 a steady decline in services took place until the Second World War when the revival in traffic even necessitated the extension of passing loops on the single line sections. Its fate was sealed by the Western Region in 1958 when all services were terminated at Cheltenham. Thus the through traffic that provided its lifeblood had been cut and the line declined rapidly, to close in 1961.
An outline of the company's uphill struggle to complete the railway is covered in this first volume, together with an individual account of each of the stations and junctions along the route. This account is the result of much painstaking research by the author, combining information from both official records and interviews with former railwaymen. The company's locomotives and stock, operational details, etc. are included in Volume two.
Example Two Page Spread [1]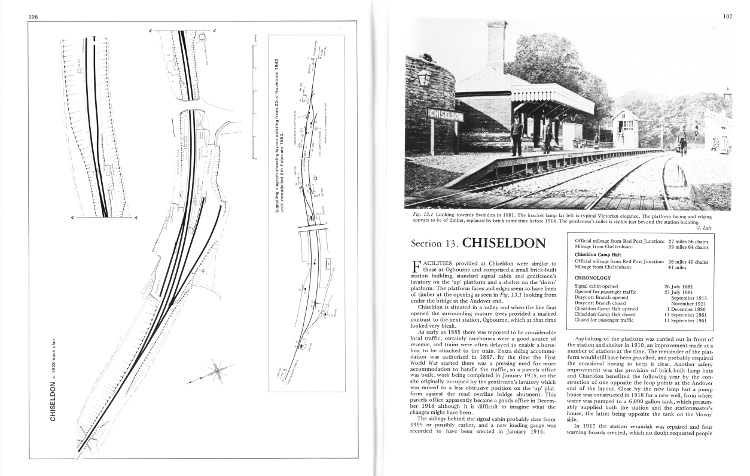 Example Two Page Spread [2]