Wild Swan Books
Narrow Gauge Adventure
A Modelmaking Journey
Peter Kazer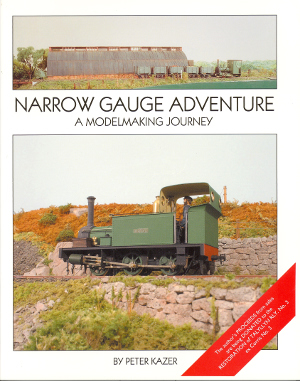 Softback - 162 pages - £26.95
Contents
The Hobby
The Projects

Maentwrog (009)
Portmadoc-Duffws (009)
Dinas Junction (009)
Glaslyn (009)
Corris (1/48)
Blythburg (1/48)
Sand Hutton Central (1/48)
Taliesin (1/48)
Boot-Owd Ratty (1/48)
Camber (1/48)

The Unfulfilled Projects

Festiniog Railway (Tan-y-Bwlch & Duffws)
Festiniog & Blaenau (Blaenau Festiniog & Tan-y-Manod)
Talyllyn Railway (Nant Gwernol & Abergynolwyn)
Glyn Valley Tramway (Chirk)
Corris Railway (Aberllefenni)
Autun-Chateau Chinon (Anost-Vaumignon)
Vale of Rheidol Light Railway (Devil's Bridge & Aberffrwd)
Pentewan Tramway (Pentewan Harbour)
Welshpool & Llanfair Railway (Llanfair Caereinon & Lledon Brook - Welshpool)
The Rye & Camber Tramway (Rye Tram Station)
The Ashover Light Railway
Cliffe Hill Mineral Railway (Cliffe Hill Farm)

Tools
Techniques & Materials
Description
This book is a personal view and account from one of the country's leading narrow gauge modellers and will appeal to both modellers and enthusiasts of the narrow gauge.
After an introduction which includes a little of the author's other interests and working life, the first half of the book describes all the model railway projects that Peter has completed over 40 years in the hobby. Extensive colour and black and white images illustrate not only the models but, just as importantly, the prototypes that inspired them. Also included are a couple of the brief diversions taken by Peter into classic cars and canals.
The second part of the book "The Unfulfilled Projects" is an inspiring collection of track plans, sketches and prototype photographs for a number of narrow gauge models based on twelve different subjects. Peter concludes with chapters on tools, techniques and materials.
Example Two Page Spread [1]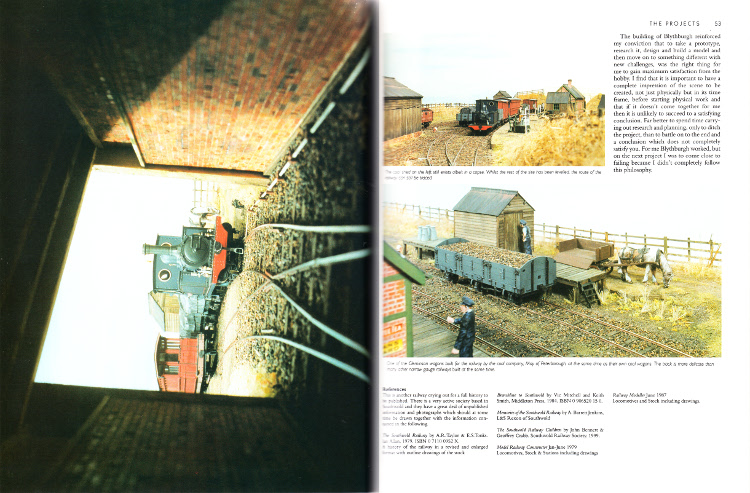 Example Two Page Spread [2]