Wild Swan Books
The "Royal Scots"
LMS Loco Profile
No.15
David Hunt, John Jennison & Bob Essery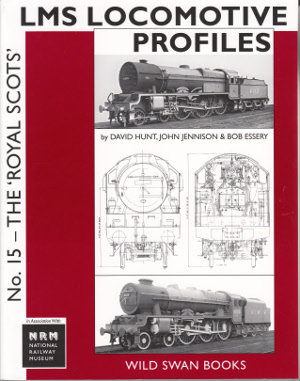 Softback - 180 pages - £26.95
Contents
Origins and Development
Construction and Modification

The Parallel Boiler Engines
The Taper Boiler Engines

Tenders

The 3,500 gallon tenders
The 4,000 gallon tenders

The Engines in Service
Liveries

Pre-war LMS
Wartime and post-war LMS
British Railways
Description
A completely new volume to cover both the original and rebuilt locomotives, 180 pages absolutely packed with information, photographs and detailed scale drawings. Although the rebuilds were covered in part one of this series, out of print for some years now, the level of detail did not match the quality of later parts and so the authors decided to cover the whole story in one book, which makes for a more logical and complete account.
The Construction and Modification chapters extend to 83 pages and provide detailed coverage of all the component parts of the Royal Scots from boilers to speed indicators and ATC/AWS. The Appendices contain details of naming, building, conversion, renumbering, modification and withdrawal dates as well as shed allocations for selected dates between 1935 and 1960. The 36 drawings include twelve at large format, printed on to six fold out pages neatly bound into the book, as in some earlier volumes in the series. Style and design also follow the previous volumes, but with some well executed and subtle changes that have freshened the concept, including putting the title on the spine(!).
This is the first book in this series for nearly ten years and we hope to now continue with further titles. A pictorial supplement is in preparation as John Jennison has uncovered a wealth of previously unseen material on these singular locomotives.
Example Two Page Spread [1]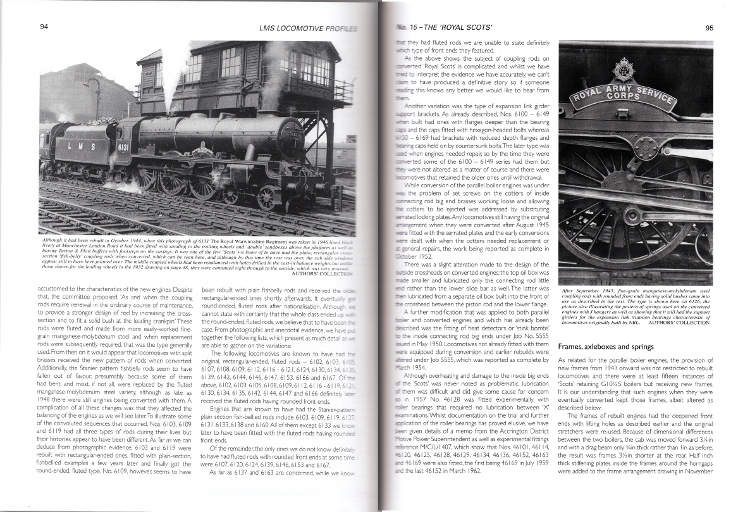 Example Two Page Spread [2]