Wild Swan Books
Small Layout Design Handbook
James Hilton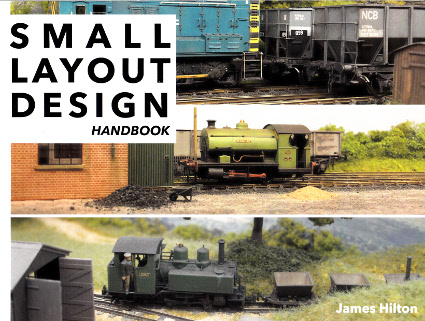 Softback - 80 pages - £17.50
Reprinted October 2023 with minor alterations.
Contents
Finding your space
The marriage of space and prototype
Small layout success
Layout as part of your home
Plans 1:76 Scale

The End of the Line [Scotland]
Cornish Inglenook [Cornwall]
Canal without water [Derbyshire]
The Interchange [Bristol Harbour]
Coy in a box [USA]
Ruabon Brook Tramway [Wales]
Cornish Shelf [Cornwall]
Light Railway Idyll [Kent]
The Corkickle Brake [Cumbria]
On a summer's day [Gloucestershire]
Renfrew Wharf [Scotland]
Scotland in the round [Scotland]
Two point plan [Wales]
Plantation Tramway [Caribbean]
Ridge [Purbeck]
Blubber Bay [Canada]
Whitehall [Devon]
The perfect trainset? [Tyneside]

Plans 1:87 Scale

The other Colorado [USA]
Fancy a beer? [USA]
The Pier [Canada]
Claremont Paper [USA]
West Lebanon [USA]
Fancy another beer? [USA]

Closing thoughts
Description
In this book James Hilton takes a new look at the subject of small model railway layout design from a fresh and personal perspective, punctuated with examples of his own modelling and worked examples. Profusely illustrated with photographs, sketches and plans, the book takes us through completed projects, design considerations and sources of inspiration, before presenting 24 practical layout ideas to either follow, or provide inspiration for your own ideas.
The beauty of a small layout is the relative speed in which results can be achieved and its comparative low cost. For those with an interest in many and varied prototypes, it offers a way to engage and enjoy as many of these as possible, without being locked into a lifetime layout build. For others it is the opportunity to practice a new skill or indulge in a different scale.
Thought provoking and motivating, the enthusiasm and creativity which the author displays puts one in mind of Iain Rice's work, while the novelty and impact of his schemes recalls the breath of fresh air that the much missed Carl Arendt brought to our hobby. From any perspective, in this book James Hilton amply demonstrates that small in size definitely does not mean small in either ambition or enjoyment!