Wild Swan Books
The South Wales Main Line
Part Three - Cardiff (West) to Bridgend
John Hodge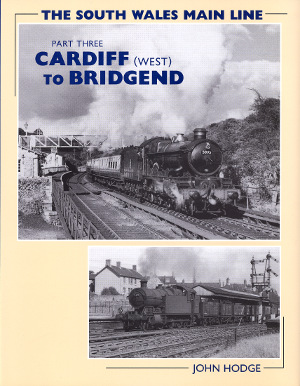 Hardback - 100 pages - £22.95
Contents
Canton West
Leckwith Junction
Ely Main Line
St.Fagans
St.Fagans Viaduct
St.George's
Peterston
Pontsarn to Miskin
Llantrisant
Llanharan
Bryn-Y-Gwynon
Pencoed
Bridgend
Description
The section of the South Wales main line between Cardiff and Bridgend was rural in character and, for the first time since its entry into the Principality, met higher ground, involving a significant climb to Llanharan from both directions. Whilst it did not carry the amount of traffic to be found in the Newport and Cardiff areas, it was nevertheless a busy and important section of line, with a considerable flow of freight and passenger trains.
This volume takes us from the outskirts of Cardiff General and Canton through the suburb of Ely and into the countryside beyond. The railway passes through the delightful rural areas around St.Fagans and Peterston as it follows the Ely River valley to the northwest, passing the Miskin Loops on its way to the junction station of Llantrisant, with its branch connections to Cowbridge, Penygraig and Pontypridd, as well as to mineral lines in the vicinity. Llantrisant was on the southern edge of the South Wales coalfield, and the area around the Station displayed its connections with that industry. Leaving Llantrisant, the main line climbed to Llanharan, which was also involved in coal mining, with its branch to Tondu and a number, of collieries diverging off the main just before the station is reached. From Llanharan, the line descends through Bryn-y-gwynon and Pencoed, once more passing evidence of mining, and enters Bridgend, some twenty miles from Cardiff.
John Hodge has once more set out a comprehensive study in photographs and text, highlighting the many aspects of this section of the line. As with other books in this ongoing series, the volume contains large-scale maps to enhance the photographic and textual coverage.
Example Two Page Spread [1]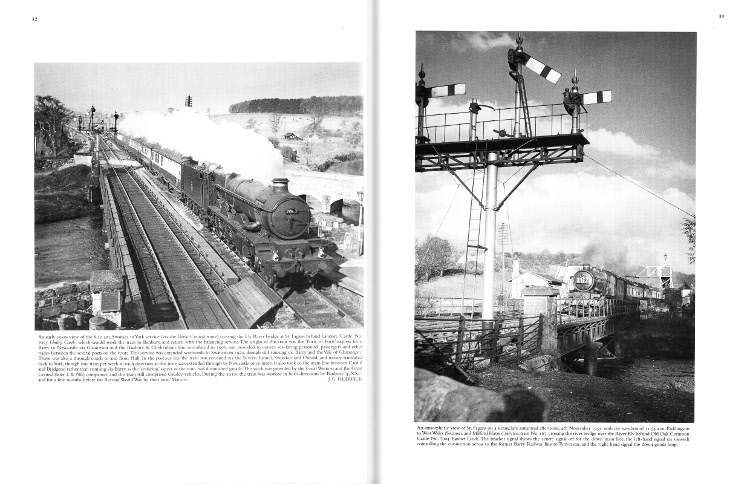 Example Two Page Spread [2]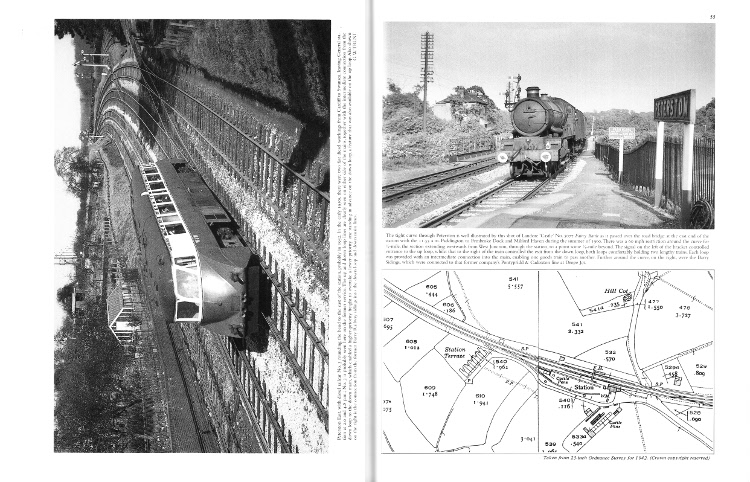 Example Two Page Spread [3]