Wild Swan Books
The Standard Compounds
LMS Loco Profile No.13
David Hunt, John Jennison & Bob Essery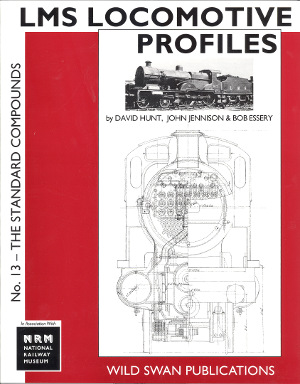 Softback - 174 pages - £25.95
Contents
Origins
The Midland Engines
LMS Locomotives
Construction and Modifications

Boilers
Cylinders & Valves
Motion & Frames
Axleboxes, Wheels & Axles
Brakes, Sanding & Bogie
Platform, Splashers & Cab
Carriage Warming
Oil Burning
Speed Recorders & ATC

Tenders

Bogie Tenders
Midland Six-Wheel Tenders
Post-Grouping Tenders
Tender Exchanges & Other Types

The Engines in Service

Traffic & Allocations
Maintenance & Cost Effectiveness
Working on Compounds

Livery

Midland Railway
LMS Crimson Lake
LMS Black
British Railways
Description
Whatever one's opinion of them, the Compounds were important locomotives for several reasons. They were the largest class of three-cylinder compounds in the world, the most successful class of British compound engines, the most numerous 4-4-0s of one class ever built in Britain and the largest LMS passenger class. The class was developed and produced over 31 years and remained in service for nearly sixty years; the authors have covered this relatively complex story in an understandable, but reasonably detailed form.
Although all 240 of the three-cylinder 4-4-0s are often referred to as 'Midland Compounds', only 45 were actually built by the Midland Railway. The first five were produced from 1901 to 1903 when Johnson was Locomotive Superintendent; the remaining forty, with significant alterations by Deeley, appeared between 1905 and 1909. The remaining 195 engines were built by the LMS and by the time the last five appeared at the beginning of the Stanier regime in 1932, the whole Class was visually and mechanically similar.
In addition to the many photographs of the engines in service, the book includes twenty-seven detailed drawings, eight at large format, printed on four fold out pages bound into the book. The Appendices include building, rebuilding, and withdrawal dates, tender pairings and shed allocations for selected dates between 1914 and 1958.
Example Two Page Spread [1]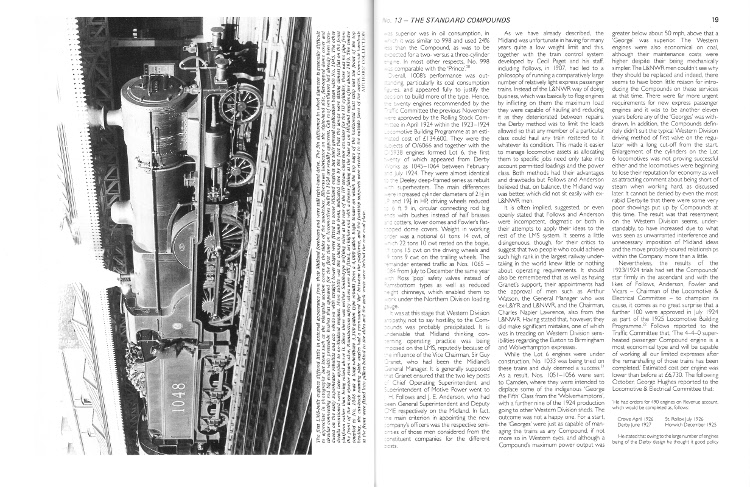 Example Two Page Spread [2]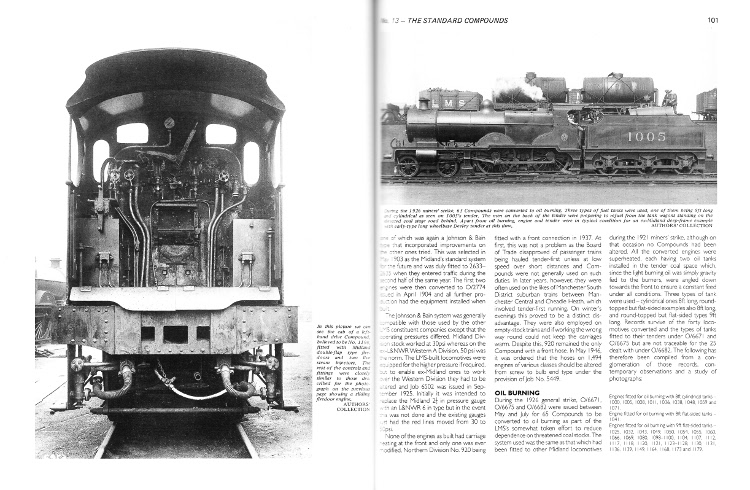 Example Two Page Spread [3]