Wild Swan Books
LNER Wagons Volume One
LNER Southern Area
Peter Tatlow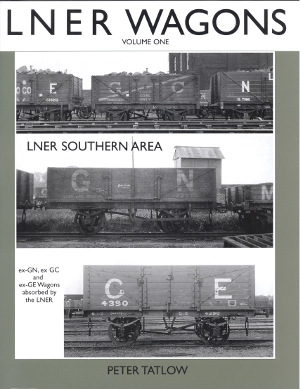 Hardback - 248 pages - £34.95
Contents (ex-GN, ex-GC & ex-GE Wagons)
Low & High Sided Wooden Open Wagons
Mineral & Steel Open Wagons
Covered Goods Vans
Perishable & Special Traffic Vans
Insulated & Refrigerated Vans
Fish Trucks & Fish Vans
Implement & Machinery Wagons
Flat Trolleys & Boiler Wagons
Girder & Plate Wagons
Glass & Pulley Wagons
Flatrol & Weltrol Wagons
Single & Double Bolster Wagons
Twin Bolster Wagons
Livestock & Cattle Wagons
Gas Holder & Tank Wagons
Coal, Loco Coal & Coke Wagons
Ballast & Sleeper Wagons
Breakdown & Accident Vans
Packing Vans & Wagons
Travelling Cranes & Jib Wagons
Workshop & Weighing Machine Vans
Mess & Tool Vans
Engineers 4-wheel and Bogie Wagons
Signal Department Vans
Gunpowder Vans
Goods Brake Vans
Description
The London & Northern Eastern Railway, along with the London, Midland & Scottish Railway, Great Western Railway and Southern Railway companies came into existence on 1st January 1923. This came about as a result of the Railways Act of 1921, which grouped 27 of the larger companies, generally by geographical location, as constituents of the four new groups and into which numerous smaller companies were absorbed as subsidiaries, not all of which owned wagon stock.
The LNER was constituted from the North Eastern Railway, Great Central Railway, Great Eastern Railway, Great Northern Railway, Hull & Barnsley Railway, North British Railway and Great North of Scotland. All four of the grouping companies had an independent existence of just twenty-five years, before they were nationalised as British Railways, part of the British Transport Commission, from 1st January 1948.
Peter Tatlow has compiled a series of books for Wild Swan on the wagons absorbed by the LNER from its constituent companies and the standard wagon designs subsequently developed by the LNER. This first volume in the series includes over 90 wagon types encompassing the ex-GN, ex-GC and ex-GE wagons absorbed by the LNER in its Southern Area. Volume Two covers the ex-NER and ex-HB wagons in the LNER North East Area and Volume Three deals with the ex-NB and ex-GNS wagons in the LNER Scottish Areas. Volumes 4A and 4B conclude the series with coverage of the LNER standard wagon designs.
Example Two Page Spread [1]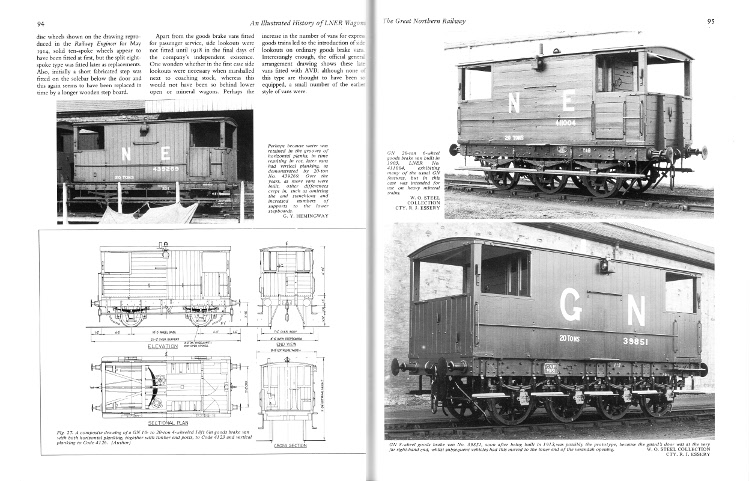 Example Two Page Spread [2]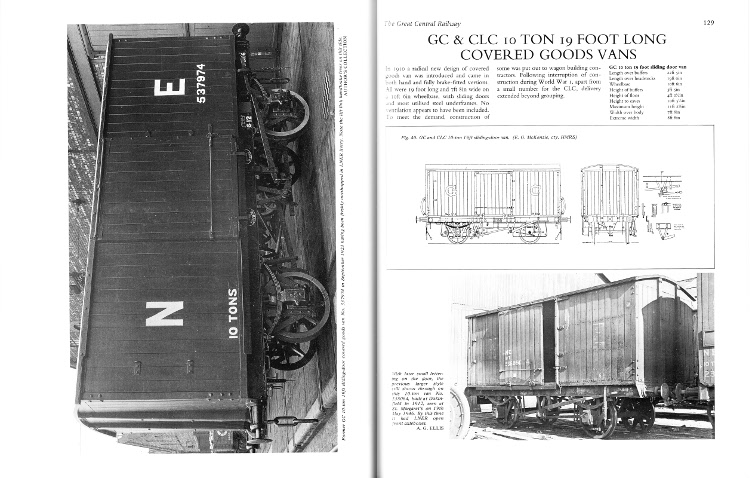 Example Two Page Spread [3]