Wild Swan Books
Twilight of the Goods
Don Rowland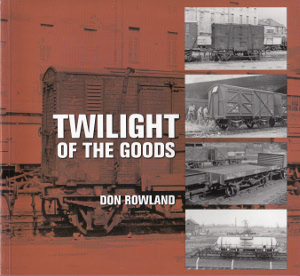 Softback - 80 pages - £14.95
Contents
Ex-GWR Wagons
Ex-LMS Wagons
Ex-LNER Wagons
Ex-Southern Railway Wagons
British Railways Wagons
Private Owner Wagons
Description
Many years ago, Don Rowland set out to record the previously neglected subject of how goods were handled on British Railways. Gaining permission from the railway authorities, he sought to photograph and record the many thousands of goods wagons that then existed in out of the way sidings, busy marshalling yards and industrial sites. This resulted in an unrivalled collection of images and information which Don has been generously making available to fellow enthusiasts ever since, with his images illustrating numerous articles, publications and books.
Now nearly sixty years later in "Twilight of the Goods" Don relates how he started his epic quest and shows us through seventy seven selected images just how different the world of goods on the railways was before Beeching, Marples and the age of the Motorway.
We have endeavoured to make the captions informative and accurate for both the wagons and settings in each case and with a very few exceptions all subject photographs are accurately dated and their locations recorded. Many of the backgrounds are also interesting on various levels, all of which serve to illustrate just how very different so much was at the twilight of the era of traditional freight working on British Railways.The selection of images includes rolling stock built by and for private owners, British Railways and the four pre-nationalisation companies.