Wild Swan Books
Beautiful books created with care
Recent Books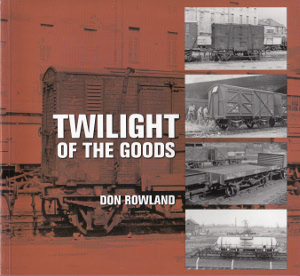 Twilight of the Goods - Don Rowland - £14.95
Many years ago, Don Rowland set out to record the previously neglected subject of how goods were handled on British Railways. Gaining permission from the railway authorities, he sought to photograph and record the many thousands of goods wagons that then existed in out of the way sidings, busy marshalling yards and industrial sites. This resulted in an unrivalled collection of images and information which Don has been generously making available to fellow enthusiasts ever since, with his images illustrating numerous articles, publications and books.
Now nearly sixty years later in "Twilight of the Goods" Don relates how he started his epic quest and shows us through seventy seven selected images just how different the world of goods on the railways was before Beeching, Marples and the age of the Motorway.
We have endeavoured to make the captions informative and accurate for both the wagons and settings in each case and with a very few exceptions all subject photographs are accurately dated and their locations recorded. Many of the backgrounds are also interesting on various levels, all of which serve to illustrate just how very different so much was at the twilight of the era of traditional freight working on British Railways.The selection of images includes rolling stock built by and for private owners, British Railways and the four pre-nationalisation companies. [ More details ]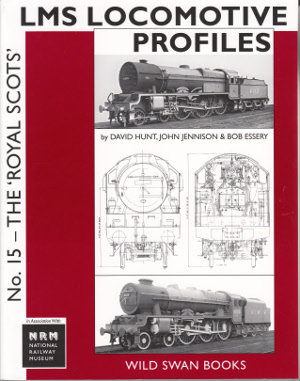 LMS Loco Profiles No.15 The "Royal Scots" - David Hunt, John Jennison & Bob Essery - £26.95
A completely new volume to cover both the original and rebuilt locomotives, 180 pages absolutely packed with information, photographs and detailed scale drawings. Although the rebuilds were covered in part one of this series, out of print for some years now, the level of detail did not match the quality of later parts and so the authors decide to cover the whole story in one book, which makes for a more logical and complete account.
The drawings include twelve at large format, printed on to six fold out pages neatly bound into the book, as in some earlier volumes in the series. Style and design follow the earlier volumes in the series, but with some well executed and subtle changes that have freshened the concept, including putting the title on the spine(!).
This is the first book in this series for nearly ten years and I hope to now carry on with further titles. If this book sells well then there is the prospect of producing a pictorial supplement in the near future as John Jennison has uncovered a wealth of previously unseen material on these singular locomotives. [ More details ].
Wild Swan are happy to supply retail customers in person or on-line via the Titfield Thunderbolt Bookshop. We also attend some of the major model railway shows. A number of bookshops and specialist retailers also stock our titles.
Wild Swan Books Ltd.
Studio 4 Tollbridge Studios, Toll Bridge Road, Bath, BA1 7DE
Tel. 01225 462332