Wild Swan Books
Beautiful books created with care
Recent Books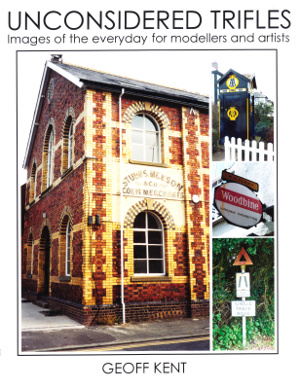 Unconsidered Trifles - Geoff Kent - £14.95
This book is a photographic record of the "lesser man made features" of our environment that stand witness to and remind us of times not long past. For the most part they are everyday unremarkable things that were commonplace from Victorian times up until the second half of the last century, but which have since been largely swept away by the constant tide of modernisation.
The author's fascination with these "unconsidered trifles" as he has named them (taking his cue from Autolycus in "The Winter's Tale") grew out of his hobby of building transport models of both road and railway subjects and his conviction that these models should reflect as accurately as possible the periods in which they are set.
Most of the pictures in this book have been taken in the last three or four years and show subjects which for the moment still exist and all of which are visible from public roads or footpaths. These images provide a rich visual source of these minor details, ideal for modellers and artists who wish to re-create scenes from our recent past. [ More details ]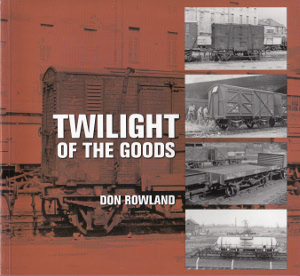 Twilight of the Goods - Don Rowland - £14.95
Many years ago, Don Rowland set out to record the previously neglected subject of how goods were handled on British Railways. Gaining permission from the railway authorities, he sought to photograph and record the many thousands of goods wagons that then existed in out of the way sidings, busy marshalling yards and industrial sites. This resulted in an unrivalled collection of images and information which Don has been generously making available to fellow enthusiasts ever since, with his images illustrating numerous articles, publications and books.
Now nearly sixty years later in "Twilight of the Goods" Don relates how he started his epic quest and shows us through seventy seven selected images just how different the world of goods on the railways was before Beeching, Marples and the age of the Motorway.
We have endeavoured to make the captions informative and accurate for both the wagons and settings in each case and with a very few exceptions all subject photographs are accurately dated and their locations recorded. Many of the backgrounds are also interesting on various levels, all of which serve to illustrate just how very different so much was at the twilight of the era of traditional freight working on British Railways.The selection of images includes rolling stock built by and for private owners, British Railways and the four pre-nationalisation companies. [ More details ]
Wild Swan are happy to supply retail customers in person or on-line via the Titfield Thunderbolt Bookshop. We also attend some of the major model railway shows. A number of bookshops and specialist retailers also stock our titles.
Wild Swan Books Ltd.
Studio 4 Tollbridge Studios, Toll Bridge Road, Bath, BA1 7DE
Tel. 01225 462332